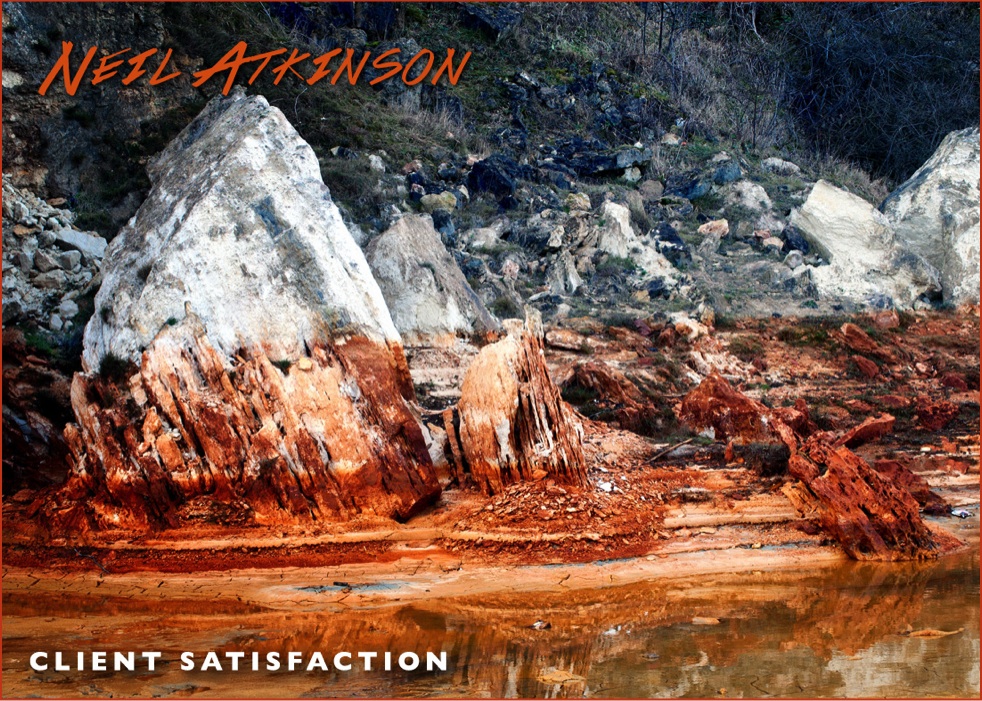 In recent years, I have used three voucher marketing companies as part of my promotional activities
and all three companies independently verify their client satisfaction rates.
Groupon rating : 99% satisfied
Travelzoo rating : 100% satisfied
Living Social rating : "perfect"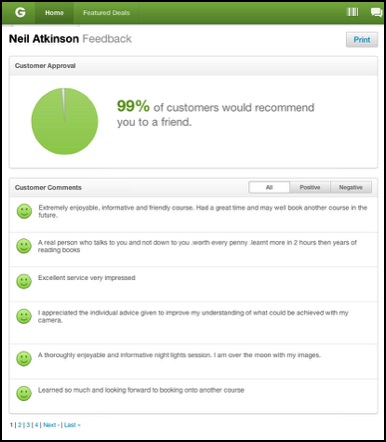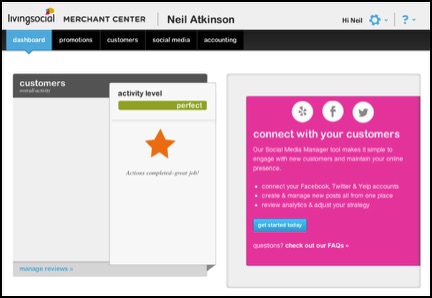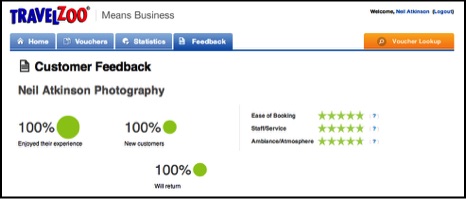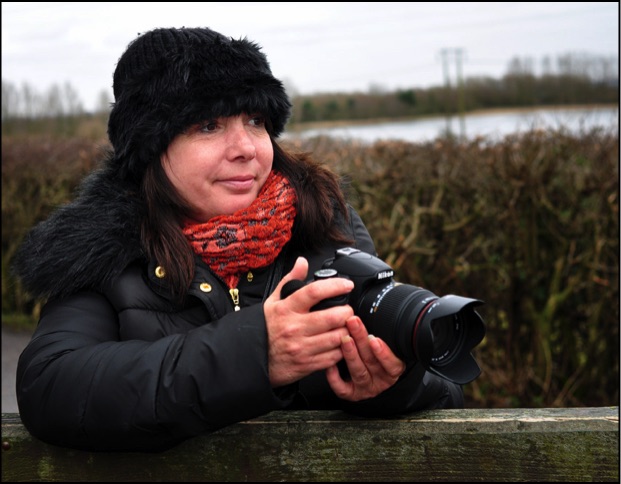 "Neil's 1:1 Master Class is perfect for budding photographers who want to learn quickly and have uninterrupted personal time with a really great tutor. Best of all, I had the opportunity to ask lots
of questions in a way that wouldn't have been
possible in a group."
Deborah Smith
Small Business Coach
"Absolutely beautiful work."
Mike Figgis, Oscar-winning Film Director
"...the digital photography wizard!"
David Whetstone, Editor, Culture magazine
"Neil's images are quite spectacular."
Brian Aitken, Editor, The Journal
"Neil lives and breathes Photography and as a Teacher,
he is willing to share everything he knows."
Lewis Jackson (April 2013 student)
"I had a Personal Master Class with Neil as I did not feel confident enough to attend one of his group events.  Neil took me from complete novice to being able to actually use my camera confidently.  Whilst I am a complete beginner, I now understand the fundamentals of composition, aperture, shutter speed, depth of field, ISO, exposure and exposure compensation.  All this in four hours! Thank you Neil for your patience and fabulous teaching.
Worth every pound spent and I will definitely be back to attend more of your courses."
Karen Graham (June 2013 client)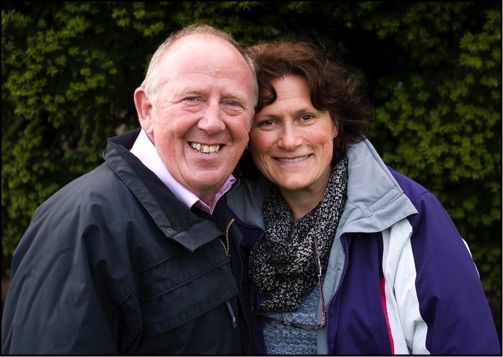 "We first met Neil on his Beginner's course. We had very little knowledge of how a DSLR camera worked or how to move beyond the auto button.
On completion of the course we were successfully taking good pictures using aperture & shutter priority and manual settings. We even understand about ISO! We were so enthused by our success that we booked on to his Intermediate course.
This helped us to advance our photo skills further & gain more understanding of composition. We are now confidently taking images in different lighting situations that in the past we would have resorted to using the flash. Neil's Night photography course was a revelation with long shutter speeds and the use of the tripod! It opened up all sorts of avenues for pictures!
This helped us to advance our photo skills further & gain more understanding of composition. We are now confidently taking images in different lighting situations that in the past we would have resorted to using the flash. Neil has a very easy going practical teaching manner and his enthusiasm for his subject is motivational and rubs off on his pupils. The Marooned session was unique and inspirational – having free access to the Lighthouse and surrounding area is an opportunity not to be missed. We now take every opportunity to use our cameras whenever we can! Thank you Neil."
Heather & Geoff Morris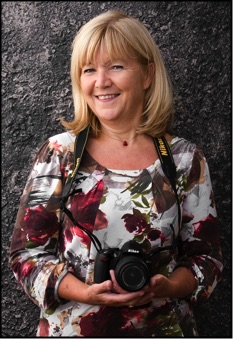 From the first hour of Neil's beginners course it was clear that I had at last found a photography tutor that would help me understand my camera and give solid advice on taking good photographs. It is rare to find a tutor (in any subject) with such passion, patience and dedication to his students as Neil. He is happy to share his tips and experience as well as giving clear practical advice on how to achieve the best possible picture.
Neil doesn't use technical jargon if a straightforward explanation can be used, and everyone in the group receives individual attention throughout the day. Subsequent courses have also been very enjoyable, gaining knowledge and practice at the more unusual shots. Neil's local knowledge of Tyneside also adds to the interest of his courses, it is fortunate we have such a prestigious photographer in the area that is happy to pass on his skills and expertise. I get real satisfaction looking back at my pictures now, and have started to create portfolios (one of Neil's suggestions) and frame some photographs, something I would not have considered last year. Overall Neil's courses are friendly, informative and most of all fun!
I had a fine time this morning - your gentle instruction and passion for composition with historical context makes your sessions a real joy.
Thanks so much for a fantastic day on Saturday!  The mixture of keeping it simple and actually going out and just snapping away was perfect for me...and you've re-ignited my enthusiasm for using my camera. 
Thank you for a great day on Sunday, it's been amazing to learn so much from you!
The course was great, thank you very much.
We had a lovely day and it was a really good group.
I really learnt a lot and think that once I continue to apply the basics I learnt, and keep practicing, it will dramatically improve my photos. I look forward to attending another of your courses in the future.
Thanks for a lovely day. It was a pleasure to meet you and we'll hopefully see you again sometime.
Thank you Neil, we both had a great day.
Thanks Neil, really enjoyed it.
Thanks a lot Neil for teaching good things for us today. Really useful.
Thanks for a really useful and enjoyable day today and I hope to hear about future courses.
Thank you for your time and expertise yesterday - I appreciated your patience and advice. I had great of fun and learnt a lot too. 
Enjoyed the day - if you have any intermediate sessions please let me know.
Loved the day, nice to be out with a bunch of people with similar interest. You have a lovely relaxed approach to photography and teaching.
Thanks for a great day, it was very useful. I am looking forward to the reading the notes and would like to attend further days to learn more.
Really enjoyed the day on Saturday. The course content very good – it has given me the confidence to try things out, instead of sticking to auto mode.
Thought your tips were illuminating.
Many thanks for Saturday. I thoroughly enjoyed the day. Your presentation was assured, informative and entertaining; the party size was right and the company was good; I got to observe things and visit places I had never seen before – despite having lived in Newcastle for approaching 70 years.
Really good day. Found what you were saying about composition really interesting, and you've taught me that there are a lot of photos to take around Newcastle! I would certainly be interested in your other courses.
Thank you so much for the fantastic photography course last Saturday.  We had a great time and learnt so much about how our DSLRs work - its opened up some exciting challenges for us and inspired us to now carry our cameras much more, ready to snap that incredible shot. Thanks so much for making the day interesting, informative and above all fun - we had a great time!
Just to thank you for a great day out, I learnt a great deal about my camera and how it works, together with your great advice on composition and depth of field.
I really enjoyed the session and felt like I learnt a lot. Thanks again. Please let me know about any further sessions as I have definitely got the bug again!
Thanks - I very much enjoyed the course, and feel I learned a lot.
Thanks for the great day on Saturday, I found it great help, lots of great advice.
Just a quick email to say thanks for yesterday. I thoroughly enjoyed it and it opened my eyes to what's around us to photograph. Once again thanks for your efforts and I hope to join you on a wander again soon.
I just wanted to thank you for a great day and to let you know that my sister and I would definitely like to come on your next course.
Thank you for an interesting day, your lesson has opened my eyes... Can't wait to learn more, I will not be using the preset modes again...
Thanks for a great day, Im really happy with the pix I've taken & learnt a great deal.
Had a enjoyable day on Saturday, it was very useful.
Just a note to say how much I enjoyed yesterday - I learned a lot.  I would be very interested in the Autumn session you mentioned, so I look forward to hearing about it from you.
I liked several of my photos from yesterday, but the one I have attached, I would not only never have thought of attempting, but would never have had the technical "know how" to achieve without your help.
Thanks so much for yesterday - very inspiring.  Now lots more work getting to know my 'instrument' so I can make the most of any future courses.
Thank you very much for a really very enjoyable day out. I learnt a lot and very
much appreciated your clarity, simplicity, patience and love for what you do.
Hope to see you again.
Thanks for the day I really enjoyed it and am inspired to keep taking more pics.
Thanks for the link and for a great course on Sunday. I really enjoyed it and feel I learned a huge amount.